Conductive rubber is to evenly distribute conductive particles such as silver-plated glass, silver-plated aluminum, and silver in silicon rubber. The conductive particles are contacted by pressure to achieve good conductivity. It has applications in both military and commerce. Its main function is sealing and electromagnetic shielding. The product can be molded or extruded, and there are sheets or other punching shapes to choose from. The shielding performance is up to 120 dB (10 GHz). Divided into CONSIL-NC (graphite nickel-plated silicon rubber filled) CONSIL-V (silver-filled silicon rubber extrusion liner) CONSIL-A (aluminum silver-plated silicon rubber filled) CONSIL-N (nickel-plated silver silicon rubber filled) CONSIL- C (copper-plated silver filled silicone rubber) SC-CONSIL (graphite filled silicone rubber CONSIL-R (pure silver filled silicone rubber) CONSIL-II (silver filled silicone rubber molded gasket), etc.
use:
Conductive rubber has good electromagnetic sealing and water vapor sealing capabilities, and can provide good conductivity under a certain pressure (the suppression frequency reaches 40GHz).
Conductive rubber meets the US military standard MIL-G-83528 and is widely used in the fields of electronics, telecommunications, electric power, military industry, aviation, aerospace, and ships. Conductive rubber is mainly made of high-performance silicone rubber as the base material, with special fillers (such as copper-plated silver, aluminum-plated silver, glass-plated silver, graphite nickel-plated particles, etc.) and additives, and are manufactured through a strictly controlled process. The volume resistivity can reach 0.004 ohm cm, and the stability is good.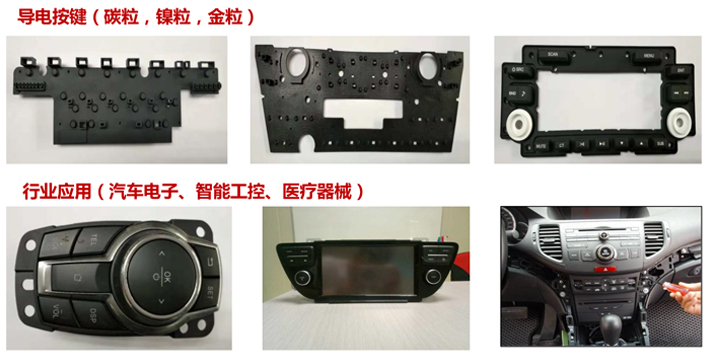 Mainly used in electromagnetic shielding occasions, but also in electronic and microwave waveguide systems such as chassis, cabinets, shelters, and connector gaskets.